Mom and baby collection includes:
Mom and baby colection of toys for role-playing and fun acting that helps children develop social skills, makes it easy for children to copy what adults do through play. But role play game is a lot more than just fun – it's learning, too.It helps kids develop social skills by imitating grown-ups and inventing their own identity.
....is very detailed and accompanied with a video of the process, so you can easily follow it even if you don't have so much experience with sewing toys.
In the tutorial, I'm explaining the basics of toy sewing, fabric and stitches that I use, and step by step I guide you through the process of sewing the mom bear, her baby and all the clothes and accessories she owns. At the end of the tutorial you will
find pattern pieces to print directly from this PDF file.
The mother bear's body is sewn together in one piece, but she can still sit. Her arms are button jointed, but movable and she can wave. When mommy bear goes for a  walk, she carries her baby around in a sling carrier just next to her heart, because that's the way the baby likes it the most. And she carries all the baby's necessities in her backpack. She didn't have much time for the hairstyle, so she just put a simple headband on her head. 
Did you know?
that female bears are very affectionate and gentle mothers to their youngs. Protecting their young is a common quality that both the human and animal mother share. They look after them, pamper them, and create a safe environment in which they grow up.
Spend hours of quality time playing together with your child, dressing together a bear's jumpsuit, tying a rockabilly headband or playing with a baby bear. I'm sure you'll both enjoy it. And we all know how useful pretend play is for our children…..and us, right?
from calico cotton, kona cotton, lightweight quilting cotton or linen... because these fabrics are accessible and easy to sew. The baby's face is embroidered and including pacifier that is not removable. Mom's face is a combination of craft plastic eyes and embroidery. Bear mom and baby rag doll set is machine sewn with seam allowance included. Both metric and imperial measurements are included.

Skill level – intermediate or confident beginner.
Experience sewing cloth dolls is not necessary, but sewing skills are recommended.
And, I'm just an email away so please don't hesitate to contact me.
Bear Mom and Baby
Regular price
$8.80
Sale price
$6.16
Unit price
per
Sale
New
Sold out
Use this sewing pattern with pdf and video tutorial to make a bear Mom and Baby with a jumpsuit, backpack, headband, and sling carrier. All clothes are removable.
View full details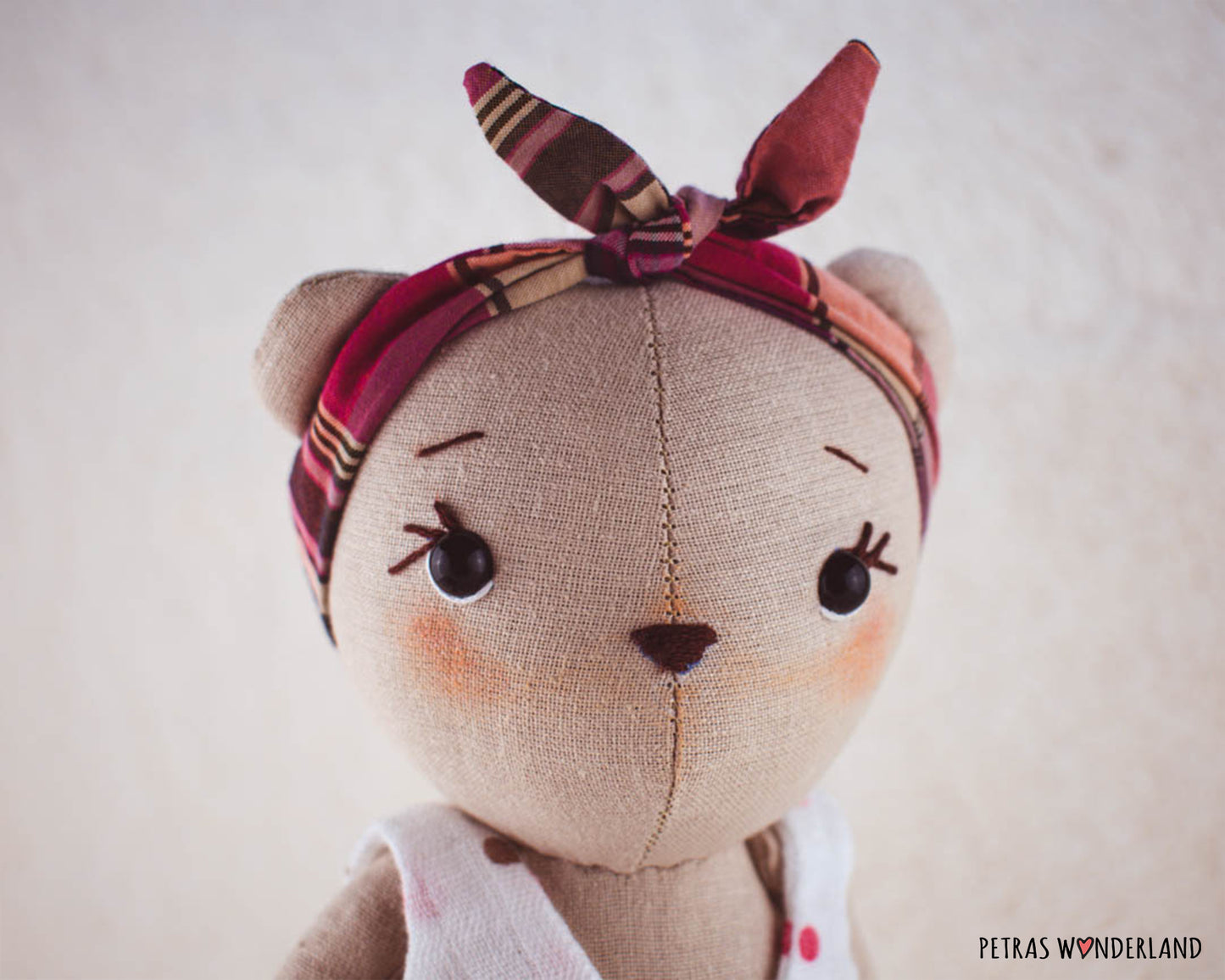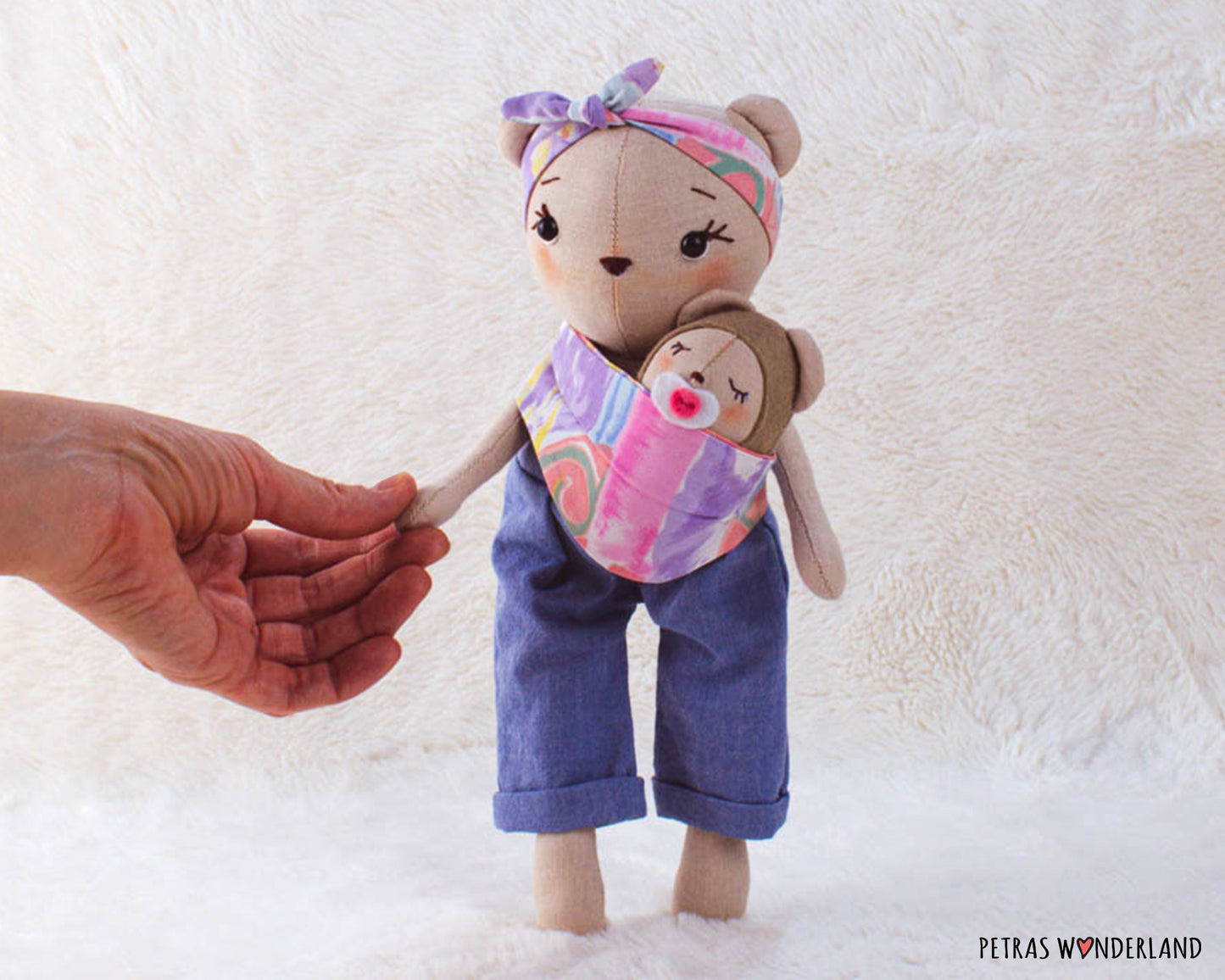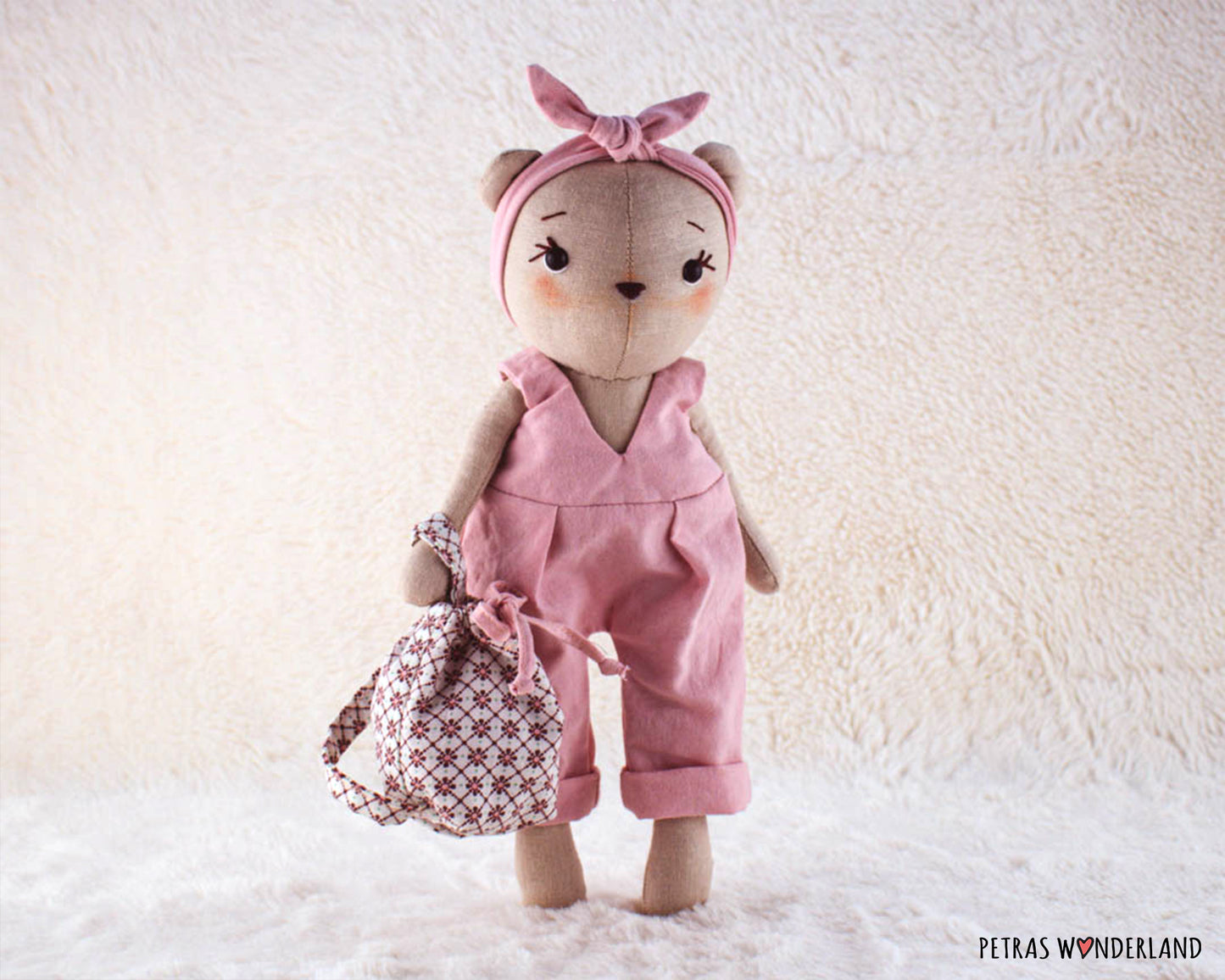 What you say about our patterns
The course is very beautiful, has every step by step explaining how to do. Excellent 👏😍

This pattern so awesome! That baby elephant is the cutest thing ever! I had so much fun sewing this up, and I made quite a few because it was so adorable.

I have bought several patterns from Petra, which means that her patterns are professionally made. Her patterns are full of photos, the instructions are clear. I'm always eager on her new patterns.

Very nice, just as I wanted it.

This pattern is fantastic. The instructions are so clear and easy to follow. There are lots of pictures to help understand the instructions better, and a link to a video of the process too, which is very helpful. I cannot fault this pattern at all!

Very sorry. There were delays in the printing. I came back later and the last pages were waiting for me. Looks like a great project!
You may also like
PDF instant download

Regular price

$8.00

Sale price

$5.60

Unit price

per

PDF instant download

Regular price

$7.50

Sale price

$5.25

Unit price

per

PDF instant download

Regular price

$7.50

Sale price

$5.25

Unit price

per
Browse collections for more inspiration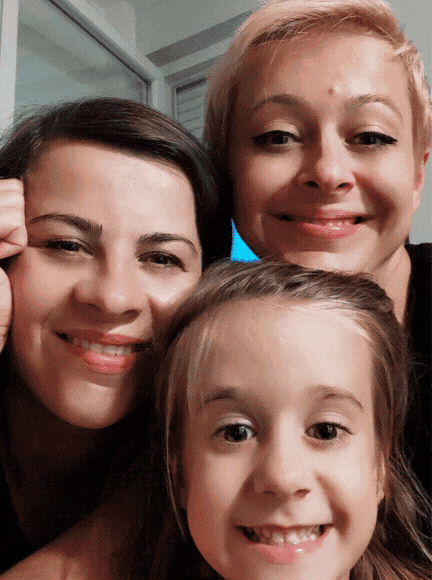 About us
Petras Wonderland is a brand that creates easy to follow patterns for handmade dolls, plush toys, memory toys and embroidery.

Hi, we are two sisters who work together to bring you joy and the magic of stitching. Our shop grew out of our passion for crafting and the love for sewing. Hours and hours are spent designing and making these patterns so they would be perfect projects for beginners and advanced sewers as well.
We strongly believe that anyone with good will, patience and good patterns and tutorials can make a toy.
Thank you for being with us because there is nothing better than knowing our creations bring a smile to someone's face and giving you the opportunity to make something with your own hands for someone you love (including yourself).